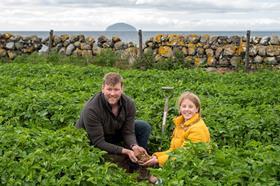 Scotty Brand has welcomed the start of its Ayrshire potato and Scottish strawberry seasons, with high sales hopes following an increase in the number of Scots buying local vegetables.
According to research by The Knowledge Bank, 12 per cent more shoppers in Scotland are buying local vegetables than before the pandemic. Meanwhile, six in 10 believe it is important to have local vegetables available when grocery shopping.
Michael Jarvis, head of marketing for Scotty Brand,said: "June is an exciting time in the Scotty calendar with our Ayrshires and strawberries hitting the shelves this weekend. Ayrshires are regarded as among the best in the world which is why they were granted PGI status in 2019.
"We never really shout about the Scottish weather, but the temperate conditions in Scotland allow our fruit to ripen at a slightly slower rate which results in our strawberries tasting sweeter and juicier."
Lucy Husband, market development and business engagement director at Scotland Food & Drink, added: "It has been difficult, but an equally important, year for fruit and vegetable producers in Scotland, with more and more consumers choosing to buy locally.
"We've seen a significant increase in the number of shoppers who are putting high importance on buying local produce. As well as recognising the quality and seasonality of produce available, consumers are considering the environmental impacts and sustainability when they buy fruit and vegetables.
"All of this, coupled with the desire to eat seasonally and support local producers, we hope, will continue to make the case strong for buying local in the future."
The first crop of Ayrshire potatoes heralds the start of Scotland's new potato season, and according to Scotty Brand, Ayrshire offers ideal growing conditions. This is mainly due to the region's light, sandy soil and sheltered beaches,which benefit from the Gulf Stream, allowing farmers to plant their crops a few weeks earlier.
Scotty Brand's strawberries, which aregrown and packed by Bruce Farms in Perthshire,alsobenefit from their location. The area's light, fertile soil, long summer days and mild nights provide good conditions for growing sweet, juicy berries.
Scotty Brand strawberries come in 300g punnets and will be available throughout Scotland in Asda stores.
The brand's Ayrshire potatoes are widely available inselected Asda, Co-Op, Lidl, Spar, Tesco and Waitrose stores in Scotland.