£2.6m Defra-funded project launched to revolutionise slug control for farmers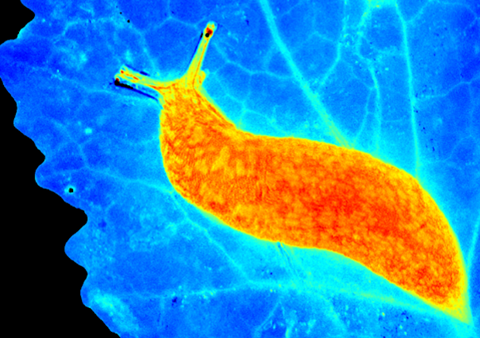 A new £2.6m Defra-funded project that seeks to provide farmers with precision slug-control solutions launched yesterday (28 June).
Strategies Leading to Improved Management and Enhanced Resilience Against Slugs (Slimers) is a three-year research project involving over 100 UK farms and six industry partners, funded by Defra's Farming Innovation Programme and delivered by Innovate UK.
The consortium of UK companies, research institutes and farmer networks, led by the British On-Farm Innovation Network (Bofin), intends to provide two specific services to control slugs more sustainably.
"Since the ban on metaldehyde, there is now only one form of chemical control for slugs – ferric phosphate pellets – so protecting the longevity of this will require both a strategic and precision approach to slug management," says project lead and BOFIN founder, Tom Allen-Stevens.
"Slugs are arable farming's biggest pest issue which is estimated to cost the UK industry about £43.5m per year. Developing solutions to tackle these pests sustainably could be a game-changer for the entire industry and wider supply chain."
Project aims
The aims are to reduce reliance on slug pellet usage through precision application of treatments to slug hotspots and advance alternative biological control, both via an economically viable approach.
Dr Jenna Ross OBE from UK Agri-Tech Innovation Centre, Crop Health and Protection (CHAP) is the project's technical lead. "I travelled the world in 2018 as a Nuffield Farming scholar and noticed a gap in the market for improved slug control.
"Farmers urgently need alternative control measures that are effective, sustainable, environmentally and societally acceptable, and economically viable.
"This industrial focused research project utilises the consortium's unique expertise and capabilities to develop cost-effective digital autonomous slug monitoring, forecasting and precision treatment tools, thus delivering on-farm game-changing solutions to benefit farmers."
Slug Sleuths
The first stage of the project will be the recruitment of 30 'Slug Sleuths' – a group of farmers determined to overcome their slug burdens – who will be selected and paid to host trials on their own farm. These farmers will test the developing technology and novel patch location forecasting to help researchers learn more about slug behaviour in a bid to create a long-term solution.
Next, the robots will move in, bringing infield cutting-edge slug identification and spot-treatment technology, building on the SlugBot project which was carried out by Small Robot Company and Crop Health & Protection (CHAP), funded by Innovate UK. The Slug Sleuths will work side-by-side with the autonomous bots to improve the AI models and advance pellet-free biological solutions.
While this technology will be tested infield by farmers, it will be supported and refined in laboratories, guided by leading scientists, and will include slug patch location forecasting and autonomous solutions for precision control.
How to get involved
Keen to expand the knowledge exchange beyond the core group of farmers, the project is also launching the Slug Circle – a platform and knowledge exchange hub designed to facilitate discussion, idea sharing and tips for best practice when it comes to slug burdens and controlling them.
The project team are urging farmers interested in being involved – or those who simply interested in alternative, precision techniques for control – to sign up now.
The project was officially launched to the industry on Wednesday 28 June at 1pm on the Small Robot Company stand (DF E27) at this year's Groundswell event, with a follow up webinar to explain more about it and what's on offer for farmers who wish to take part on 15 August at 8:30am.
More information about the project, including links to project partners and research initiatives that underpin the project can be found at slimers.co.uk