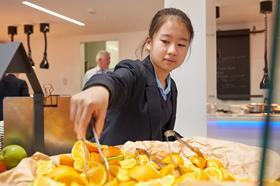 Sodexo has partnered with the British Nutrition Foundation to improve the health and wellbeing of children and young people through its menus and education programmes.
The so-called Healthy Futures Partnership was formed following research conducted by Sodexo in partnership with community outreach charity Business in the Community (BiTC). The study identified health and wellbeing, specifically nutrition education for children and young people, as a priority for Sodexo's schools and university clients.
The British Nutrition Foundation is a public-facing charity which exists to give people, educators and organisations access to reliable information on nutrition.
Together with Sodexo it hopes to positively impact some 250,000 children and young people across the 550 state and independent schools where Sodexo and its subsidiary, Alliance in Partnership, deliver school meals.
The Healthy Futures Partnership will involve a new and sustainable approach to menu design combined with a range of evidence-based nutrition education programmes, including nutrition, health and wellbeing training for Sodexo's frontline catering teams.
In addition, learning resources are being created to help Sodexo's trained chefs and for teaching staff to use in the classroom to improve pupils' understanding of nutrition, cooking, and food provenance.
The aim, Sodexo said, is to encourage young people as well as their families to adopt a healthier lifestyle.
Sodexo's Rosemary Molinari said:"The more we can educate students about their food choices, the more likely we will influence their performance while learning, their behaviours, and their health and wellbeing into adulthood."
Sara Stanner, science director at the British Nutrition Foundation, added: "It is important for all children and young people to receive good education on food, nutrition and health so that they are equipped with the necessary skills to make healthy choices and to eat well now and in the future.
"We welcome the opportunity to work with Sodexo as part of the Healthy Futures Partnership to help them make a meaningful difference to the health and wellbeing of the young people they serve, as well as to support the staff involved to deliver food education in schools through training and resources."