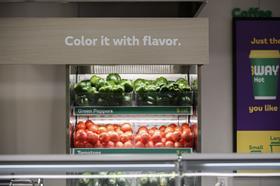 Sandwich chain Subway has launched a new store format and design inspired by vegetables and with a greater offering of fresh produce.
Dubbed Fresh Forward, the new store concept is being trialled in 12 pilot locations across the world including the US, Canada and Manchester in the UK ahead of a wider global rollout.
An increased focus on fresh produce includes displays of whole tomatoes, green peppers, onions and cucumbers that are sliced daily, plus a colour scheme that is inspired by fresh produce.
The revamped format is centred around technology with self-order kiosks, digital menu boards, mobile phone pay options and designated pick-up locations for kiosk or mobile app orders. Customers can also order via a bot on the Messenger app and pick up orders in store.
Technology is encouraged in stores via USB charging ports and free Wi-Fi.
Subway Fresh Forward restaurants also include new menu items, such as new sauces, house-made pickles, and gluten free options.
"We've created a modern design that gives our guests choices - from how they order, to how they pick up their food, to how they enjoy their meal," said Subway vice president of operations, Trevor Haynes. "The reactions from our guests, our franchisees and the Sandwich Artists has been incredibly positive."
The new stores are the latest evolution in a new brand identity for Subway, seen across signage, uniforms and packaging. It was unveiled in North America in 2016 and will be rolled out globally by the end of this year.