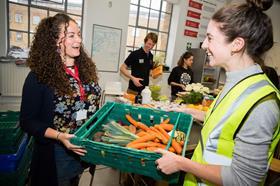 Tesco boss Dave Lewis has warned that the UK will miss the sustainable development goal of halving food waste by 2030 unless mandatory reporting is introduced.
In the UK, 156 of the largest food companies have committed to reducing food waste but, according to Wrap, only 121 of these (including all the major retailers) are now providing evidence of how they are meeting Sustainable Development Goal 12.3.
Thiscalls on all countries to halve their food waste from farm to fork, as well as reducing food loss during production and supply chains, by 2030.
Tesco chief executive and chair of the Champions 12.3 group, Dave Lewis, said:"A lot of food companies have pledged to tackle food waste, but without transparency will not be able to judge if they are delivering on their commitment.
"Publishing food waste data is vital and must be mandatory if the UK is to achieve SDG 12.3 to halve food waste by 2030. The government has indicated it will introduce mandatory reporting and we call on them to do this urgently."
Commenting on 24 September, when Wrap published the first annual update on its Food Waste Reduction Roadmap, he added:"The case for reducing food waste is indisputable. One third of the world's food is wasted whilst one in nine people go hungry.
"If food loss and waste were a country, it would be the third largest emitter of greenhouse gases on the planet. We cannot delay, we must act now."
Together the 121 businesses that are implementing the Wrap and IGD strategy to 'target, measure, act' have a combined turnover of almost £220 billion, representing 50 per cent of the total turnover in UK food manufacture, retail and hospitality, and food service.
They also generate around 1.1 million tonnes of food waste in their own operations, a third of the total UK post-farm gate supply chain food waste.
Wrap estimates that signatories of the Roadmap have together rescued 53,000t of food, valued at £85m, in the past 12 months.
Now the body is aiming for "all major UK food businesses" to be implementing its food waste reduction strategy – and to provide evidence of their progress – by the end of 2026.
Wrap's chief executive Marcus Gover said:"I am delighted at the huge progress in this first year of the UK Food Waste Reduction Roadmap. Businesses that are implementing 'Target, Measure, Act' are already reaping the benefits, and those publicly reporting comparable data show an average seven per cent reduction."
Tesco has been a driving force in efforts to reduce food waste in the fresh produce supply chain, and in 2013 it became the first UK retailer to publish annual food waste data.
On 24 September the retailer published its data forthe 52 weeks to the end of February 2019. A total of32,887 tonnes of surplus food was redistributed to charities, community groups, colleagues and animal feed, representing a 63 per cent increase compared to last year.
The supermarket produced 44,297 tonnes of food waste during the period.
Tesco's 27 own-brand suppliers, which account for more than half of Tesco's fresh food sales, also published food waste data for the second year running. These included AMT Fruit, Flamingo Horticulture, Branston, G's Fresh and Richard Hochfeld.
On a global level, over two-thirds of the world's 50 largest food companies have set targets in line with SDG 12.3, and more than 40 percent are measuring their food loss and waste.
However, just one-third are pursuing actions at scale to reduce waste in their own operations.
"Businesses need to increase efforts to engage their suppliers and increase public reporting of their food loss and waste inventories," Tesco said.