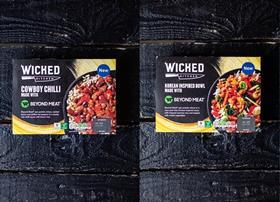 Tesco has launched a new plant-based range of Wicked Kitchen frozen ready meals in collaboration with meat substitute specialists Beyond Meat.
It is the first time Beyond Meat, which is known for its restaurant-quality vegan food, has collaborated with another food manufacturer in the UK.
The four meals in the new range, which cost £2.75 each, are as follows:
- Wicked Kitchen – Korean Inspired Bowl made with Beyond Meat
- Wicked Kitchen – Naked Burrito made with Beyond Meat
- Wicked Kitchen – Bangin' Biryani made with Beyond Meat
- Wicked Kitchen – Cowboy Chilli made with Beyond Meat
The popularity of plant-based food continues to grow, with demand for chilled meat-free options growing by nearly 40 per cent a Tesco in the year to March 2021, according to Kantar data.
This launch of four protein-packed dishes from around the world follows the supermarket's pledge, last autumn, to grow its range of plant-based meat-free alternatives by 300 per cent by 2025.
Tesco's director for plant-based innovation Derek Sarno said: "We hope that the launch of these new meals will encourage more people togive plant-based food a try. Early feedback from people who took part in food trials for the new range was that they did not believe the meals were vegan.
"I brought Beyond Meat to Tesco a few years ago so it's great to be collaborating again and working with them on these new Wicked Kitchen frozen plant-based meals."
Chuck Muth, chief growth officer at Beyond Meat, added: "As consumers are increasingly looking to include plant-based meals in their diet,Tesco's new 'ready meals'featuring Beyond Meat,offer a simple and delicious solution without having to sacrifice on flavour or convenience."