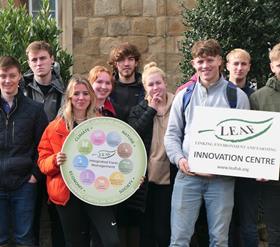 Agrii's Throws Farm Technology Centre and Newcastle University Farms have joined the LEAF Network.
Launched on 13 October 2021 as LEAF Innovation Centres, they join the UK-wide LEAF Network of farms and research centres, which aim to advance the science and practical application of more sustainable, regenerative farming, delivered through Integrated Farm Management (IFM).
All about Agrii
Agrii is a provider of agronomy services, technology and advice to the farming sector. Working with breeders, suppliers and manufacturers, it provides advice to a 280-strong agronomist network reaching 35 per cent of UK farms.
Throws Farm, based near Dunmow in Essex, is Agrii's R&D technology centre and carries out applied research into integrated crop management strategies, including varietal selection, fertiliser and nutrient use efficiency, 'greener' pesticides, novel biosolutions, soil health and IPM.
University farming
Newcastle University Farms totals 800 hectares across two sites in Northumberland. Together, they form a diverse mixed farming enterprise consisting of dairy, arable and pigs, and use precision technology across all grass and arable land.
Research areas are wide-ranging, with current emphasis on IFM approaches in both crops and livestock, aiming to deliver 'sustainable intensification' through regenerative agriculture.