Data from ONS demonstrates huge price pressure on banana producers amid rising inflation, production costs and sustainability requirements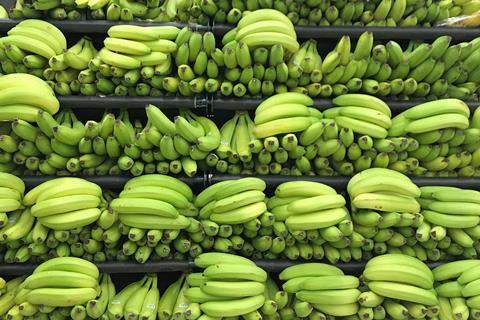 UK retail prices for bananas are still below the level seen in 1987 – despite the recent surge in inflation and despite decades of increasing costs and sustainability requirements for banana producers around the world.
This is the shocking finding of Rabobank's fresh produce expert Cindy Van Rijswick who gathered data from the UK's Office for National Statistics for an internal presentation before sharing it on LinkedIn.
"Actually, bananas are a victim of their own success," she said. "It is one of the most sold items in European supermarkets. Therefore, supermarkets believe they can attract shoppers with low-priced bananas.
"Also, in some countries, supermarket price levels are compared among supermarkets using a basket of products including bananas, so they do not like to be very expensive for the products in that basket.
"Another explanation is the large supply of bananas, efficient supply chain, as well as commoditisation of the product. Internationally traded bananas are all pretty much the same (usually the same Cavendish variety) despite the different brands used."
While some brands may claim they have better quality or better-tasting bananas, she said she doubts whether consumers perceive it that way.
"The many small producers of bananas do not have any power to enforce higher prices," she added. "Only organic and Fairtrade bananas get a premium but also these prices are very much under pressure in the European market."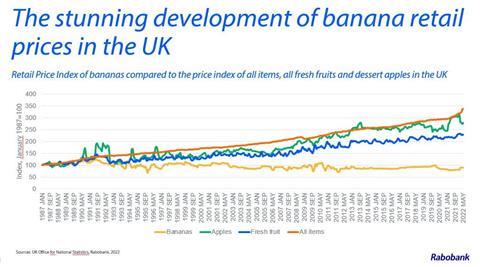 Banana prices at UK retailers did rise for the first time in five years in November 2016, a few months after the Brexit referendum – up by 4p per kilo at Aldi and subsequently Asda, Morrisons and Lidl. Acording to the data from the ONS, prices then crept up gradually before falling again in 2020, however they have remained remarkably low given the rising costs of production and supply.
Towards the end of 2020, German discounter Aldi sparked controversy by lowering the price it pays banana producers, cutting its 2021 price by €0.06/kg and taking the box price down to just €11.33. This was reportedly the lowest price ever seen.
Aldi, which is present in 30 countries worldwide, has more or less set the benchmark price for fresh bananas in the European market, according to Alistair Smith of Banana Link, a UK-based not-for-profit cooperative that works for fair and sustainable banana and pineapple trades.
Thankfully for banana producers, Aldi increased its 2022 contract price by €0.09 per kg compared to 2021, but Latin American banana associations met the decision with a lukewarm response, saying it didn't go far enough to cover the entirety of the increased costs that producers face.