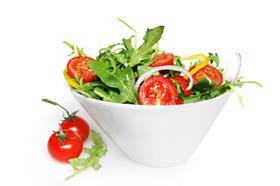 There may be a budding new market for produce suppliers thanks to a change in lifestyle among Britain's white van drivers.
According to the One Poll research, commissioned by Volkswagen, van drivers are ditching their stereotypical junk food lifestyle and are now more likely to choose fruit or salad as a snack, before working out at the end of the day.
One in seven drivers say they now make their own packed lunch, with one in 10 claiming to eat a healthy diet of fruit, vegetables and salad while on the road.
In addition, the average van driver will work out twice a week, with more than one in 10 heading to the gym at least five times a week, the study found.
According to Volkswagen, this research "seems to show that nowadays, van drivers are leading a much healthier lifestyle than you might expect".
"Rather than grabbing whatever they can while out on the road, they are tucking into homemade lunches of salad and fruit – a far cry from the food you might expect them to be eating," a spokesperson said.