Veg Power links up with Dreamworks Animation's Kung Fu Panda to help families provide healthy and affordable lunchboxes
Veg Power, the not-for-profit alliance to increase vegetable consumption across the UK, yesterday (14 November) announced an exciting new collaboration with DreamWorks Animation's Kung Fu Panda: The Dragon Knight to support families in their quest to provide healthy, simpler and affordable lunchboxes for their children.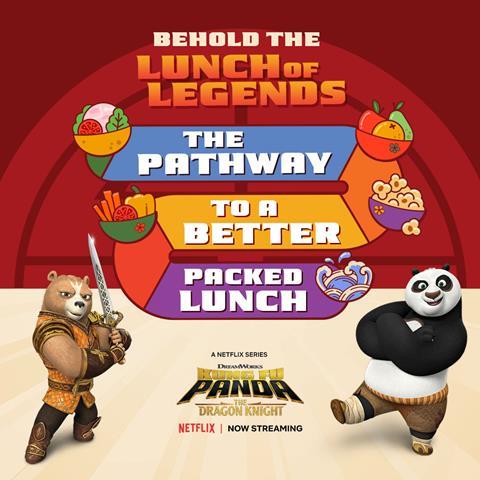 The tie-up is part of Veg Power's new 'Simply Veg' campaign, designed to support parents and carers to get more veg into their families during the current challenging economic times.
According to Veg Power, while packed lunches are a convenient option for school children, their nutritional content can be poor. Research found fewer than two in every 100 packed lunches eaten in English primary schools met nutritional standards and just one in five had any vegetables or salad included.
In addition, with the current cost-of-living crisis it has been estimated that lunch box staples (bread, tomatoes, cheese) have increased in cost by 70% over the last 18 months, putting more strain on families' food budgets.
Commenting on the collaboration, Dan Parker, chief executive, Veg Power, said: "It can be incredibly difficult for parents to provide their kids with nutritious packed lunches particularly on a budget.
"We hope these Kung Fu Panda materials engage parents and kids alike and steer them towards healthier and more affordable lunchbox options. We're thrilled to have DreamWorks on board supporting our Simply Veg campaign to help parents and carers across the nation."
Consumers are advised to look out for a Kung Fu Panda-themed lunchbox guide 'Behold the Lunch of Legends - The Pathway to a Better Packed Lunch' and weekly planner featuring characters Po and Wandering Blade.
The resource contains top tips and ideas themed around the 'five sacred steps of a hero's lunch' and a competition to win a home entertainment bundle to celebrate the new Kung Fu Panda: The Dragon Knight series on Netflix. A digital version is available to download and print for use at home via the Simply Veg website.
Simply Veg has been developed to support all parents and carers offering simple, easy ideas and an impressive panel of experts providing the latest advice to help reduce the impact on families' budgets, encourage veg acceptance by children and decrease the amount of food waste.
The expert panel includes nutritionists Dr Laura Wyness RNutr, Dr Glenys Jones RNutr, Charlotte Radcliffe RNutr, Zoe Griffiths RNutr, dietician Priya Tew, food writer Bee Wilson, sensory education specialist Kim McGowan, Geneticist & President of the British Dietetic Association - Dr Giles Yeo MBE, children's food psychologist Dr Clare Holley, former BBC Blue Peter gardener Chris Collins and chefs Hugh Fearnley-Whittingstall, Ching He Huang MBE, Bettina Campolucci Bordi, Tom Hunt and ITV Chef Shivi Ramoutar.
To ensure the resource provides information and advice most relevant and useful to families, the expert panel will be on hand to answer questions posed by parents/carers via its 'Ask the Expert' function accessible via the Simply Veg website.
Veg Power, a not-for-profit Community Interest Company, was founded by the Food Foundation, Hugh-Fearnley-Whittingstall, Sir John Hegarty and Baroness Boycott to turn around vegetable consumption in the UK.
It runs creative initiatives to engage, inspire and motivate people to eat more veg and create life-long good food habits. To change children's perceptions of veg, Veg Power runs the award-winning Eat Them to Defeat Them campaign. Since the campaign debuted in January 2019, it has led to sales of nearly 1 billion additional children's portions of vegetables worth £92m.
Veg Power is funded by Abbey View Produce, Abel & Cole, Barfoots, Bayer Crop Science, Coop Foods, EVG Europe, Fresca, Greenyard, Gs, Hazera Seeds UK, Monaghan Mushrooms, Ocado, Produce World, Riviera Produce, SAKATA, Sainsbury's, Staples, Tesco, Total Produce, Waitrose, Wealmoor, Westfalia Fruit Group and Waitrose.