Company that redistributes wonky bread and vegetables is recruiting in several roles as it looks to grow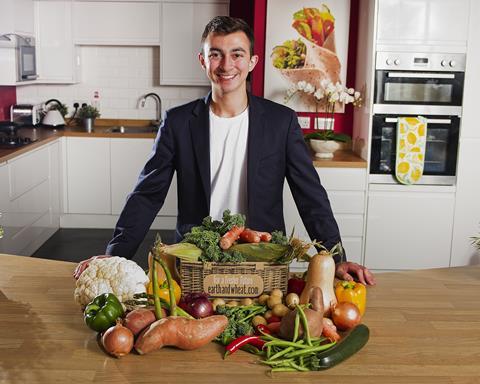 Wonky food subscription service Earth & Wheat has launched a recruitment campaign as it looks to expand its operations over the next 12 months.
The fledgling FoodTech firm, which launched just 18 months ago, recently appointed Amine Benchaoui as managing director to drive a bold company growth plan, with founder James Eid remaining firmly involved.
Earth & Wheat was set up by university student Eid, 22, when he began saving and redistributing 'wonky bread' from his family bakery, Signature Flatbreads, as part of his mission to reduce food waste and help save the planet.
The start-up got off to a flying start, selling 10,000 boxes in the first 12 weeks and has already turned over around £1 million, with £150,000 donated to surplus food charities such as The Felix Project.
In May this year the company entered the vegetable market with its 'wonky veg' box, and is looking to further expand its range of 'wonky food' over the next year.
Now Earth & Wheat is recruiting for several roles including a brand manager, buyer and technical manager with, ideally, experience in the fruit and vegetable, bakery or FMCG industry.
Using access to the established Signature Flatbreads bakery, the brand will continue to fight food waste at the production source, before bread even reaches the shops.
However, the 'wonky food' start-up, is recruiting in order to accelerate partnerships with sustainable businesses looking to reduce food waste, whereby it can connect them directly with Earth & Wheat customers and turn food that would usually be binned due to strict shop standards into profit.
Benchaoui takes over as managing director at Earth & Wheat having spent the past 10 years at Signature Flatbreads, which is the UK's largest producer of flatbreads.
Benchaoui said: "I'm looking forward to guiding Earth & Wheat on the next part of its journey. The brand has already come an incredibly long way in a very short space of time with no less than three different 'wonky' foods lines, including bread, biscuits and vegetables, added within 18 months.
"We're launching a recruitment drive as we have a big and bold 12-month plan ahead, so we'd love to hear from anybody who is interested in applying for any of the positions, especially if they are in similar roles or are already working in the baking industry."
Applicants can apply via email by sending their CV to hello@earthandwheat.com.