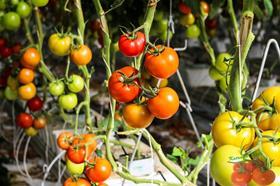 Victorian tomato and cucumber producer, Katunga Fresh, has been offered a discounted interest rate on a A$5m bank loan from the Commonwealth Bank (CBA) in order to finance upgrades to reduce the farm's greenhouse gas emissions.
Speaking to the ABC, Katunga Fresh owner, Peter Van Den Goor said the loan will help them begin a A$10m programme to install LED lights and more energy-efficient gas heating systems to all its glasshouses.
It also has plans to install cogeneration (CHP) plants to burn natural gas to produce electricity and capture the heat that is usually wasted.
'So that way it is much more efficient than the gas boilers we have at the moment,' said Van Den Goor. 'By doing that we will bring our carbon emissions down by 20 to 30 per cent.'
Katunga Fresh is based in Northern Victoria and supplies glasshouse-grown truss tomatoes, cucumbers and cherry tomatoes to major supermarkets across the country.
Commonwealth Bank agribusiness general manager, Tim Harvey, told the ABC the 'green loans' were different to the bank's 'sustainability linked loans' announced earlier in the year.
'In this case, it offers a discount for the loan for eligible purposes… and some of those purposes could be sequestering carbon, it could be planting shelter belts, it could be a water use efficiency project or an energy efficiency project.'
He said farmers would be audited to verify the loan funds were used for the environmental projects.
'We are delighted this is Australia's first but also, this is something that is new and emerging even globally,' Harvey added.