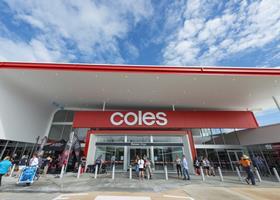 Leading Australian supermarket chain, Coles, has signed a 10-year agreement with Queensland state owned clean energy generator and retailer, CleanCo.
Coles will purchase 400 GWh of electricity annually through the agreement. The Western Downs green power hub, set to be Australia's largest solar farm once built, and the MacIntyre wind farm, one of the largest wind farms to be built in the southern hemisphere, will supply three quarters of the Coles' electricity requirements, with the remainder supported by CleanCo's low emissions portfolio.
The partnership will reduce Coles electricity carbon dioxide emissions nationally by an estimated 20 per cent, or 240,000 tonnes annually, equivalent of taking 100,000 vehicles off the road every year.
It also secures the development of both projects, which together with CleanCo's Karara wind farm will create 800 local jobs in Queensland's Western and Southern Downs.
Last year, Coles became the first major Australian retailer to commit to buying renewable energy. It signed a 10-year power purchase agreement with global renewable power generation company Metka EGN, purchasing more than 70 per cent of the electricity generated by three solar power plants in regional NSW.
The long-term agreement commences on July 1, 2022, and is expected to power 90 per cent of Coles' Queensland sites.
Queensland energy minister, Anthony Lynham, said reliable and affordable energy supply will underpin the state's economic recovery post-Covid.
"Affordable reliable energy is critical to business and industry, and their capacity to create jobs," said Lynham.
"That's why the government is investing in initiatives like our A$500m renewable energy fund that will allow our publicly owned generators, including CleanCo, to invest and drive more renewable energy generation.
"Under this agreement, wind and solar energy generated on Queensland's Southern Downs and Western Downs will be powering Coles supermarkets and other retail outlets right across the Sunshine State," he added.
Coles chief executive, Steven Cain, said the significant increase in renewable energy is a major part of Coles' commitment to be Australia's most sustainable supermarket.
"We are thrilled that with these agreements, Coles can make a significant contribution to the growth of renewable energy supply in Australia, as well as to the communities we serve."
"We have already made changes throughout our business to use energy more efficiently, which has enabled us to reduce our greenhouse gas emissions by 36.5 per cent since 2009, while growing our team member base and store network," concluced Cain.