Fresh produce growers are among the latest round of Coles Nurture Fund recipients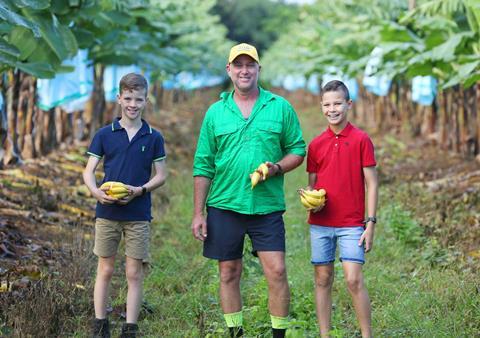 Coles has awarded Australian producers A$3.6m in grants from its Coles Nature Fund to drive innovation and sustainability.
A number of fresh produce operations are among the eight recipients in this round of grants from the fund which has distributed more than A$33m to 100 businesses since the initiative started in 2015.
The owner of Queensland's Bartle Frere Bananas Gavin Devaney thanked Coles for a grant of A$445,000 which will be used to invest in new technologies including the ability to calculate real-time greenhouse gas emissions on the family owned and operated farm.
"This investment from Coles will help us invest in new technology that we will use to develop a carbon neutral banana range and deliver significant advances in reducing nutrient runoff into the Great Barrier Reef," said Devaney.
Tasmania's Esperance Bay Orchards will receive A$440,000 to invest in Near Infrared technology that detects the internal quality of organic fruit and limits food waste by reducing rejections.
"Thanks to this generous grant from the Coles Nurture Fund we will become the world's first organic apple pack house to use self-learning AI technology to reduce food waste, improve efficiency and ensure the fruit that makes it to the shelves is of the highest quality," said owner Malcolm Francis who has supplied Coles for more than 20 years.
Coles Group executive general manager fresh Andy Mossop said the latest round of recipients were chosen for their uniqueness and ability to achieve high impact sustainability goals to reduce emissions, enhance animal welfare, and reduce waste.
"We are proud to be able to award more than A$3.6m to eight Aussie small and medium sized businesses as part of the latest round of the Coles Nurture Fund," said Mossop.
"I am excited to see how this round of funding will help bring to life bright ideas generated by these eight businesses. From carbon neutral bananas, to freezing technology that promises to reduce food waste, this year's recipients are proof Aussie farmers are leading the charge when it comes to innovation and sustainability."