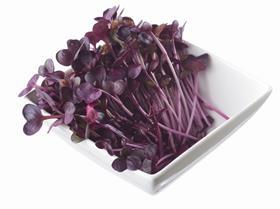 Wholesale supplier Flowerdale Farm launched its microgreen varieties into premium Coles outlets in Victoria last month in response to strong consumer demand for these products.
Microgreens, also known as micro herbs, are herb and vegetable sprouts sold in bio-dome punnets. Providing a fresh alternative to herbs and traditional salads or garnishes, they have a high nutritional value and strong flavour.
At present, 51 Coles outlets are stocked with three varieties of Flowerdale Farm microgreens. These coriander, red radish and chives varieties will shortly be followed by a new sweet basil variety expected in the coming weeks.
The wholesaler has expressed its intention to expand its programme to national distribution following the trial in Victoria, which is thus seeing strong sales.
Flowerdale will coordinate in-store cooking demonstrations through November and December with support from chef Kristine Cseke, which will offer consumers an insight into how the product can be used in several dishes.
This approach filters into a broader focus on educating consumers on the microgreens, which includes QR (quick response) codes and product labels which provide usage information.
Flowerdale also has further cause to celebrate with its general manager James Rattray receiving a nomination for The Weekly Times Coles 2013 Farmer of the Year Award, announced on 2 October in the The Weekly Times newspaper.
The award recognises the nominee's innovations in agriculture and puts Rattray in the running for a cash prize, with the winner receiving A$10,000.
This month, Flowerdale also launched its retail product range in the David Jones Food Hall in the Melbourne Bourke Street outlet, which includes its microgreens alongside edible flowers, petite vegetables, sprouts, shoots and salads.