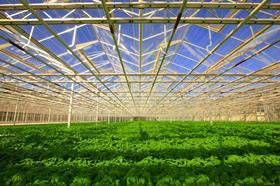 Urban Ecological Systems Australia (UESA) have pioneered a horticulture system based on sustaining farming principles has been launched in western Sydney, marking a world-first innovation for the industry.
The company has constructed a glasshouse in which it grows plots of herbs that are linked to water tanks containing farmed barramundi. This system allows the basil, coriander and parsley to be fertilised by treated barramundi waste, enabling the fish and herbs to grow simultaneously.
"This idea has been 15 years in the making," says Andrew Bodlovich, co-inventor of the technology. "We managed to attract investors to the programme to build a semi-commercial scale version of our integrated aquaculture and organic vegetable system after our appearance on ABC's 'New Inventors' TV show. We ran this for several years to fine-tune the technology, then formed a joint venture with UESA in 2010 to commercialise the technology and build the first commercial scale prototype – the Cobbitty project."
The Cobbitty project is currently in its first stage, with a glasshouse growing area of 4,300m² and a production capacity of several million units of herbs and 15,000kg of barramundi annually.
Marketing approach
When it came to considering how best to market their produce, UESA struck gold with an agreement brokered through commercialisation strategist Edison with local retailer Coles.
"The agreement has Coles pay an agreed price and take all the produce we grow that meets their specifications," explains Bodlovich. "This is an ideal arrangement for us because, as a young innovative company we want to be able to focus on fine-tuning our technology, rather than putting a lot of effort into marketing our produce."
"Edison will be supplying Coles with 128,000 plants every 28 days as well as 15,000 to 20,000 kilograms of Barramundi each year," says company director Ben Meadows. "With Coles' support and long-term commitment we can commence our expansion early 2014.'
Technology potential
At present, UESA has a five year agreement to exclusively supply Coles in Australia's retail sector. However, Bodlovich sees significant potential for the technology to be used for other purposes during that period.
"We may be developing it for other uses within that time, such as building food supplies for remote mining towns," he says. "At the end of the five year contract period the relationship will be reviewed, and could be extended if Coles are able to keep working with UESA to take the increasing volume of produce coming out of multiple farms. UESA will also develop diverse lines of produce beyond the current herbs that are being produced, into crops such as Asian greens, lettuces, a range of fruiting crops such as tomatoes and cucumbers, and ideally a wider range of aquaculture products."
Bodlovich takes considerable pride in his commitment to proving that environmentally friendly technologies can enhance rather than comprise business profitability. "Using the barramundi effluent for a commercially practical purpose counters a highly problematic aspect of aquaculture on the environment throughout the world," he says.
"The commercial benefit is also obvious in the greatly reduced need to buy fertilisers," adds Meadows. "The end result is fresh, healthy, organic basil, coriander, parsley and barramundi."
Future direction
Looking ahead, Bodlovich sees potential future expansion both in Australia and abroad. "UESA has licence rights for the technology in Australia and Europe, so the plan is to roll out the technology in Australia in conjunction with Coles, then look at opportunities in Europe," he says. "Urban Ecological Systems Limited (UESL), who developed the system and own the intellectual property rights, are assessing opportunities for the technology around the world outside of Australia and Europe. For my co-inventor Hogan Gleeson and I, our vision is to see food grown in this way in and around all the cities of the world."