Horticulture exports to receive boost from A$50m post-harvest treatment facility located at the South Australian Produce Market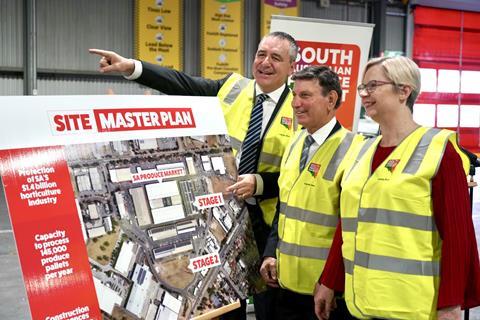 The Australian and South Australian governments, along with the South Australian Produce Market, have announced the development of a new A$50m facility, based in Pooraka, in Adelaide's northern suburbs.
It will be the first post-harvest treatment facility of its kind in the state and will provide inspection, quarantine and treatment of fruit and vegetable produce which is vital for exporting the state's produce globally.
The facility will use pressure cooling and treatment technology and will be the largest-scale multi-treatment and inspection facility in South Australia.
Construction will commence in February 2024 and once completed the project is expected to unlock more than A$100m in additional fresh produce exports over a five-year period. Currently, South Australian producers are required to send their produce to Victoria or Queensland for treatment. This new facility is set to reduce those transport costs and improve profitability.
The project will establish a post-harvest treatment service with pressure cooling and treatment technology, both of which are required to enable export of South Australian produce to more overseas destinations.
South Australia Produce Market chief executive officer Angelo Demasi applauded the project which he said would become a valuable tool in toolbox when it comes to ensuring the continued supply of produce both domestically and internationally,
"South Australia has faced challenges with fruit fly outbreaks in recent years. This nation leading biosecurity precinct will allow us to inspect, quarantine, and treat produce from affected areas, safeguarding our industry and ensuring a stable supply chain," said Demasi.
"It will enable industry to introduce state-of-the-art post-harvest treatment service with pressure cooling and treatment technology, vital for exporting South Australian produce globally. It is a significant step towards making our produce more competitive and sustainable.''
Demasi said the introduction of innovative post-harvest treatment technologies would make South Australia an attractive destination for global companies looking to establish a presence in the Asia-Pacific region. The facility would also help the state manage fruit fly outbreaks.
"The lack of our own local treatment facility in South Australia has significantly impacted our grower's ability to sell to certain markets in times of outbreak. There has only been one year in the past sixteen years without an outbreak within South Australia or our regions which means the treatments available via this precinct will be vital to the future growth and reputation of our industry," he said.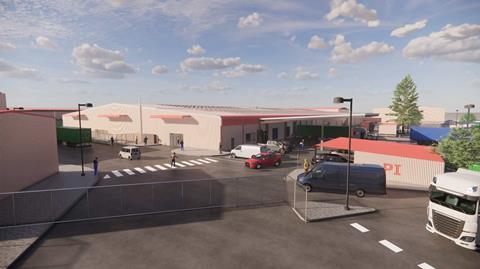 Fourth generation cherry, apple and pear grower Joyce Ceravolo said removing the requirement to send fruit interstate for treatment would significantly improve costs.
"We are really excited about the opportunity for South Australian consumers as well as new overseas customers, it will allow them to get more of our produce more efficiently and will be even fresher and tastier with the added benefit of a reduced environmental impact due to less time on the road," said Ceravolo.
Federal minister for agriculture and fishers, Murray Watt said the government was committed to growing the country's agriculture sector by investing in biosecurity.
"There is no one-size-fits-all approach to tackling fruit fly, so the funding provided under the Australian government's Building Resilience to Manage Fruit Fly package will be aimed at several different methods of controlling this pest, including through post-harvest treatment," said Watt.
"These projects will contribute to driving down fruit fly pest pressure, reducing fruit fly incursions into South Australia and building industry resilience to manage this pest.
The package will give us a huge boost towards our goal of completely eradicating our current outbreaks and retaining South Australia's fruit fly free status, as well as reducing the impacts of fruit fly nationally," he added.
"In addition to this post-harvest treatment facility, the package is also providing funding to South Australia to build new and expand existing sterile insect technique facilities, update interstate trade protocols, roll out electronic plant health certification and put in additional roadblocks to protect the Riverland pest-free area."