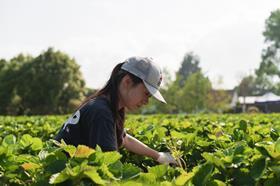 As growers continue struggle to find adequate labour resources to pick the season's harvest, one New Zealand berry producer is expecting locals will spring into action due to the lack of availability.
Whatawhata Berry Farm owner Darien McFadden said commercial growers are deeply concerned there won't be enough overseas RSE workers or those on Working Holiday Visas to pick this year's crop, leaving fruit to go to waste and creating supply and demand issues for both export and domestic markets.
"The situation could well make strawberries more expensive and harder to come by in the supermarket this year," he said. "But the answer is to head straight to your local berry farm and pick them yourself. For many Kiwi families it's become a tradition in the lead up to Christmas, and we're certainly looking forward to welcoming people at Whatawhata Berry Farm from Labour weekend onwards."
McFadden added this year's crop is of "exceptional quality" and his commercial growing operation, Strawberry Fields, is receiving export enquiries from the US and Canada who specifically want New Zealand-grown berries thanks to the country's clean, green, Covid-free status.
"All fruit and vegetable exporters are in the same position right now – demand is certainly there thanks to our incredible Covid response. Our produce has never been more sought-after. But the difficulty is ensuring we have enough workers to carry out the harvest, and then to se-cure air freight space which is now at a premium thanks to severely reduced airline schedules."
Whatawhata Berry Farm is going the extra mile to deliver a healthy, sustainable product by reducing their environmental impact as much as possible.
"We place a big emphasis on using recyclable packaging and biodegradable pick your own box-es instead of plastic ones. We also use predator insects, beneficial fungi and bacteria to promote plant health, and cultural practices such as hand-weeding and removing any rotten berries immediately to reduce agrichemical dependence," said McFadden.
"Everything from our biologically-activated waste-water system to our products in-store, is done with environmental best-practice in mind. Our reputation for excellence, plus all the add-ons we offer, means we're expecting more visitors this summer than we've ever had before!" he added.
Enjoyed this free article from Produce Plus and its team of editors? Don't miss out on even more in-depth analysis, plus all the latest news from the fresh produce business. Subscribe now to Produce Plus Magazine.