Fruit & Vegetable Consortium report recommends a national strategy to increase Australian vegetable consumption
The Fruit & Vegetable Consortium (FVC) has launched a new report that explores what is needed to lift Australia's declining vegetable consumption, against a backdrop of COVID-19 and ongoing disruption from rising costs of living and other external factors.
Entitled Shifting the dial on vegetable consumption — Rebuilding healthy families in a COVID-19 affected and disrupted Australia, the report was developed by KPMG and co-sponsored by Medibank Private, Perfection Fresh, Stop Food Waste Australia and Health & Wellbeing Queensland.
A broad section of the industry – including growers, retailers, the Australian Fresh Produce Association, the International Fresh Produce Association, Ausveg, (co-lead), health promotion agencies and government – attended the report launch on 5 October.
The report was commissioned to identify the issues and barriers faced by consumers regarding vegetable consumption, understand what will encourage Australians to increase their vegetable consumption and uncover potential initiatives and messages that are relevant to inform a national behavioural change strategy.
The report found that 91 per cent of Australians were not eating the recommended five or more servings of vegetables a day and the Covid-19 pandemic had led to Australians eating fewer vegetables.
It noted the main reasons for consumers not eating enough vegetables were the cost of vegetables, their short shelf-life and the view that the preparation of vegetables is difficult and time-consuming.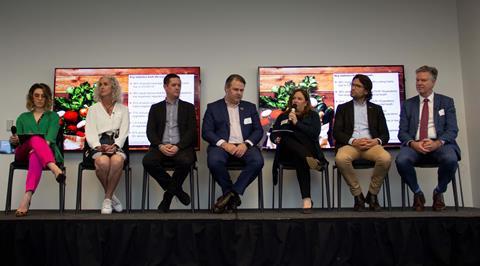 The report recommended a number of actions address the issue of vegetable consumption in Australia. These included a national strategy to increase vegetable consumption; industry integration with the national strategy; programmes that focus on the issue of 'affordability' and a strategy that enables sustained national behaviour change.
"The research findings indicate that Australians are aware that an increase in vegetable consumption will improve their long-term health. However, due to barriers linked to affordability, concern over food waste and a lack of time/inspiration, consumers need compelling motivation, inspiration and guidance on how to overcome these challenges," the report said.
"These issues are closely tied to the current state of food literacy in Australia, specifically how to select, store, prepare and cook produce. Concerns about purchasing and eating vegetables are also linked to the perceived value of produce, product marketing/competitive positioning in stores and poor health/food education for kids at school.
"With a national behavioural change strategy, industry experts believe strong initiatives and messaging addressing these core issues will drive healthy behavioural change and encourage Australians to add more vegetables to their daily diet."
FVC was created to drive initiatives to increase the consumption of fruit and vegetables and its founding members include Nutrition Australia, the Heart Foundation, Ausveg, Melbourne Market Authority, Victorian Health Promotion Foundation, Produce Marketing Association, Cancer Council Victoria, Deakin University, Stephanie Alexander's Kitchen Garden and The Good Foundation.