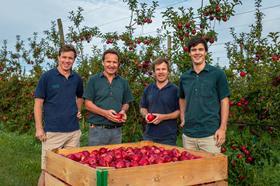 Bostock New Zealand has been recognised for its commitment to growing organic products that work for people, the planet, wildlife, and the climate.
The leading New Zealand organic apple grower and exporter was awarded "Organic Brand of the Year" at the country's annual Organic NZ awards.
Bostock New Zealand owner John Bostock said he was delighted to see the company's commitment to organics over 30 years being recognised.
"It's a credit to our whole team, who get in behind the philosophy and believe in the future of organics," said Bostock.
In 1996, Bostock and his late wife Vicky converted their first apple orchard to organic as they didn't want any agri-chemicals being used around their three young boys.
"In 1996, organics was not mainstream, so it was quite a radical move in New Zealand to go from conventional farming to organic farming but now organics is taking off all over the world. We were pioneering and learnt a lot through trial and error," highlighted Bostock.
Bostock New Zealand now exports its organic apples to more than 20 countries around the world and the demand for organic apples has been growing each year.
"People at the time were very sceptical that we couldn't make a go of it. The organic development in New Zealand has been very slow, but we have been very committed to pushing the organic movement in New Zealand to get the local organic fresh produce market up and running."
Chair of organic week 2021, Pete Huggins, said every award finalist and winner is making a huge difference.
"We are proud to showcase the hard work and commitment they've put in. Organics is a key part of the global agricultural future, and their efforts are putting New Zealand on the map."


The award was celebrated during New Zealand Organic Week which is a national collaboration and celebration of all things organic.
Organic Week showcases the best of New Zealand's organic practices from grass root farmers to the increasing number of national brands helping to grow the sector domestically and internationally.