Rijk Zwaan and IG International collaboration delivers sweet pointed peppers to Indian market
IG International and Rijk Zwaan have partnered to bring Sweet Palermo, the multi bring multi-coloured sweet pointed peppers, to the Indian market.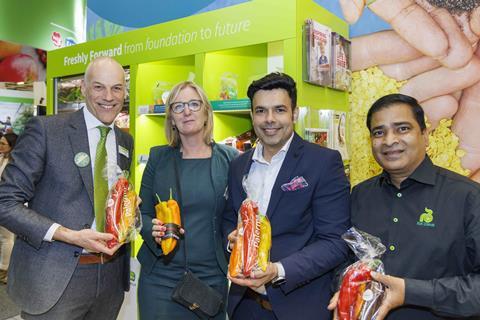 IG International's Tarun Arora said Sweet Palermo was a good fit with the Indian importer's mission to keep inspiring consumers with colourful, healthy and high-quality fresh produce.
"The Indian market always has scope for healthy and nutritious products. Moreover, Indian customers like sweetness in food and they are interested in tasty and healthy snacks. The unique qualities of Sweet Palermo are a perfect fit for it. It is a healthy, versatile and convenient product in bright colours that directly attract people's attention," said Arora.
Arora said IG would work with Rijk Zwaan to grow Sweet Palermo in India.
"Due to the market practices in India, there is a need for backwards integration. In other words, Sweet Palermo must be grown locally in India by a single company to guarantee production of premium-quality Sweet Palermos all year round," explained Arora.
"Additionally, it is important that these sweet pointed peppers are cultivated using the latest methods and technology. IG International's agri team will be doing this in coordination with the local and international teams from Rijk Zwaan."
The partnership between IG International and Rijk Zwaan is not only focused on cultivation, but also on brand promotion. The two companies will be working together to make consumers aware of both the sweet taste and health benefits of Sweet Palermo.
"Because it is such a new and unique product, we will be deploying our marketing and promotion teams to interact with consumers face to face and to inspire them with its recipes. We will be doing that online too, through e-commerce platforms, Instagram and many other popular websites. We expect to be able to benefit from Rijk Zwaan's experience with Sweet Palermo in other countries. If we can promote Sweet Palermo to the right customers in the right way, we can generate long-lasting demand," said Arora.
Ajit Kumar Bisoi, chain manager at Rijk Zwaan India, said Rijk Zwaan was just as excited about the project as IG.
"We were already in discussions with IG International regarding Rijk Zwaan's premium melon segment. We're delighted that the trading company has now decided to expand its portfolio with our sweet pointed peppers," said Bisoi.
"We highly value this opportunity to work together with such a well-established and rapidly growing global organisation. This is one way we're helping to share a healthy future for India."