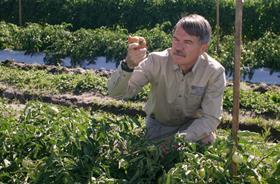 Jay Scott is professor emeritus of horticultural science at the University of Florida's Institute of Food and Agricultural Sciences. For more than 30 years, Scott was a tomato breeder at the UF/IFAS Gulf Coast Research and Education Center, where he was involved in the development and release of many tomato varieties.
Ahead of this year's Global Tomato Congress, he spoke exclusively with Fresh Focus Tomato 2021 about a greater focus on flavour in the tomato industry.
You have highlighted in the past the general blandness in taste many consumers experience when purchasing tomatoes...

Jay Scott: It has been widely reported in research literature that there is dissatisfaction with tomatoes from a flavour standpoint, and blandness is the big thing you hear from consumers.
The basic perception is largely that people are often comparing a commercially produced tomato with a home-grown tomato. They obviously don't have to go through the rigmarole a commercial tomato does – yields, disease resistance, good for shipping and other factors.
There's been a lot of compromises in the commercial system, there are other priorities. You may develop the best-tasting tomato in the history of the universe, but if it doesn't ship, it doesn't make a difference.
There is also a certain amount of mythology surrounding eating tomatoes. People reminisce, they remember being at their grandparents' house when they were little eating tomatoes, and they imagine this great taste, which may not actually be realistic – they get misty-eyed and mix taste with emotion.

To help improve flavour for consumers generally, you have called for greater global collaboration across many different growing environments. How would this work?

JS: One important thing to understand is that breeding for flavour is not simple. You don't find a gene and then, voila! you have flavour. It's a complex mix of things, and one of these is the environment the tomato is being grown in.
If you're going to have a tomato that you can ship and grow commercially 12 months a year, you need good genes for flavour but also what I call environmentally buffered genes, that allow that expression of flavour under a wide range of environments.
That led to my proposal for a worldwide approach, where populations would be grown and repeated in scientific ways from people in both the public and private sectors around the world – the whole global tomato breeding community would set up these trials.
Then you would go ahead and take all the most successful varieties, repeat the testing over the next year, and what you would end up with is tomatoes that tasted good under a wide range of conditions.
You could then bring in molecular geneticists to find genes that were linked to both the good flavour genes and those environmentally buffered genes, to come up with a package that you could effectively insert into any breeding package in the world.

The full interview appears in Fresh Focus Tomato 2021, included in Eurofruit March