Despite the many challenges facing the fresh produce industry, Sofrupak is working hard to stay ahead in sustainable packaging
The 2022 season is proving a successful one for Polish sustainable packaging group Sofrupak, with the company already achieving what has been described by sales manager Adam Sikorski as "great sales growth, above the expected level".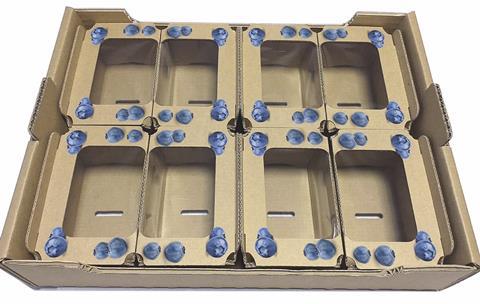 "This is the result of systematic commercial work, participation in fairs and the company's recognition," he explains. "The developing trend of plastic-free and our offer of the most ecological packaging on the EU market helps us in this.
"All this has resulted in cooperation with supermarkets that recommend our packaging system to their fruit suppliers."
The company is not immune from the rising raw material and energy costs blighting the business. Sikorski says that while Sofrupak has no influence on these costs, it is looking for savings and highlighting the company's cooperative benefits.
In addition, while the war in Ukraine has led to the loss of a few orders, Sikorski says he hopes to re-establish contacts and renew relationships at some stage.
"We have a modern energy-efficient machine park," he explains. "Our capacity is about 250,000 pieces of packaging per day.
"Since we are the European leader in the production of ecological packaging, our suppliers care about cooperation with us," Sikorski noted. "Therefore, they must meet the conditions that we require from them. We win with quality, time and price, therefore we are not feeling the problems of others."
The demand for sustainable packaging is growing, mainly for strawberries and blueberries, but Sofrupak is also introducing new solutions for different fruits, developing dynamically and already working on new products for 2024.
"This year, we have improved our SoFruMiniPak EV+ packaging by enlarging the window in the lid and we have made them better patent protection, so now it will be more difficult to copy them," Sikorski outlines. "We have introduced a new series of HandyPak packages with a fold-out handle, ingenious direct selling packaging that reduces the use of plastic bags."
The next season will be different and more demanding, he says, and Sofrupak will prepare for it and try to stay one step ahead of the competition.
For Sikorski, the satisfaction of the business lies in doing the best for customers.
"Creating new solutions and seeing customers smile, with pictures of fruit in our packaging sent to us by clients, and the pride when I see fruit in our packaging in a supermarket in Poland or abroad," he added. "Containers loaded with packages, which will be delivered to the customer in 40 days. All this is followed by a reflection that it was and is worth it, and this gives me optimism for the future."