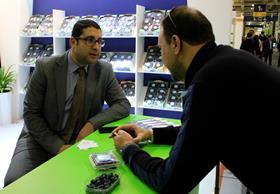 Morocco's African Blue is poised to become the largest blueberry producer in the country by 2016, according to financial director Ali Aksim.
The company boasts 400ha of production in the north of Morocco, where it grows approximately 3,000 tonnes of blueberry varieties developed by its Australian partner, Costa Exchange.
"We export 100 per cent of our production," said Aksim. "The UK is our number one market, followed by Norway and Sweden. Consumers in these markets demand the high quality that African Blue is known for. Our price is higher, but this is due to our quality."
The reputation of the blueberry as an ultra-healthy fruit has helped to create a lucrative market for the berry in the west, with consumers willing to pay a premium.
"The market is excellent at the moment," said Aksim. "We supply from January to June, but our peak is during March and April, so this is our main window."
The company is located close to Tangier, but ships via Casablanca, some 200km away. "We export throughout Europe by truck," said Aksim. "For Russia and Asia, we transport by air. Russia is not a big market for us at the moment, but we hope it will become one in the future. We also want to start sending to Germany."