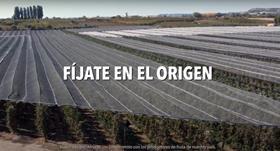 Catalan fruit association Afrucat has launched a new campaign calling for Spanish consumers to buy domestically-grown apples rather than imported ones.
On Monday, it published figures comparing the environmental, social and economic impact of local production with apples grown overseas, as part of its 'Fíjate en el origen' (Take note of the origin) campaign.
Spain imports more than 200,000 tonnes of apples per year from France, Italy, Portugal and Poland.
Afrucat calculates that approximately 10,000 trucks are needed to bring them into the country, generating around 10,000 tonnes of CO2 a year.
By contrast, it said the production and consumption of national apples emits almost the same amount of greenhouse gases as those captured by the same trees, so the carbon footprint is practically nil.
"There is a unique opportunity ahead to change habits and prioritise local," said CEO Manel Simon. "In Spain, we have geographical areas with excellent climatic conditions that produce the sweetest apples and pears on the market, which allows us to respond to consumer demands. Currently, 70 per cent of the population opts for this type of fruit."
As well as the environmental consequences of importing apples, they are considerably more expensive than domestically-grown fruit, according to Afrucat.
For example, in the case of Golden apples, imported apples cost approximately €3/kg, while Spanish apples cost €1.5/kg.
Gala or Fuji also have a significant price difference, €2/kg versus €1.5/kg in the case of the former, and €2.5/kg versus €2/kg with the latter.
Joan Serentill, president of the Apple and Pear Committee of the Spanish Federation of Associations of Producers Exporters of Fruits, Vegetables, Flowers and Live Plants (Fepex), said the results were "alarming".
"It is possible to change this situation and promote new consumption habits focused on the local product," he noted.
"Today, in Spain we produce 500,000 tonnes of apple, so the consumer has the option of prioritising national consumption instead of imports."
Serentill added that he expected the paradigm would change in the coming years as local producers increased plantings of newer, more popular varieties.
This would, he said, "help the fight against the depopulation of the rural areas, giving opportunities to our young people and providing relief to the agricultural sector".
The healthy eating trend and concerns about the environment have increased in recent years. These factors caused apple consumption to skyrocket to more than 500,000 tonnes in 2020. A report carried out by Ernst & Young on post-Covid consumer trends in environmental sustainability and ethics showed that 45 per cent of Spanish consumers are willing to buy local products.
"Consuming local products not only helps to reduce the environmental impact, but also contributes to improving the social and economic situation of our environment, generating quality employment and caring for and preserving our territory," Afrucat said.