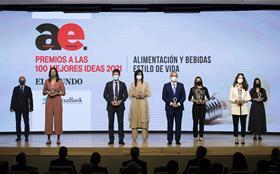 Agromediterránea has received an award for its living lettuce research project. The lettuce, which is grown hydroponically without the use of pesticides and sold under the Sun&Vegsbrand, has been recognised as one of the '100 Best Ideas of the Year' in the sustainability category by Acutalidad Económica magazine.
"At Agromediterránea we are 21st century farmers, meaning that sustainability and innovation are part of our everyday work ethic," said general manager Jesús Gómez.
"We are very proud that our commitment and the efforts of all of our team are recognised, both through prestigious awards such as this, and by our clients."
The'100 Best Ideas of the Year'awards go to the best product innovations and initiatives, in categories such as digital transformation, health, connectivity, environment, industry 4.0, SMEs and start-ups, and transport and mobility.
This innovative project, developed at the company's Centre of Agricultural Innovation (CIAM) in Murcia, aims to ensure that the product reaches the end consumer fresher and cleaner with its roots still intact.
To do this, it has implemented a strategy based on vertical hydroponic farming, with no soil and no pesticides.
The prizewinning project has so far been used to grow red oakleaf lettucesand the company now plans to incorporate other lettuce varieties as well as other types of vegetable.
"Sustainability being one of our strategic building blocks and living lettuce combines our commitment to the environment and the concept of healthy eating," the company said.