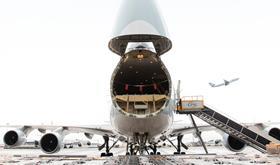 Airfreight space is becoming severely constricted following the cancellation of passenger flights due to the coronavirus pandemic, and freight rates are soaring as a result.
Large volumes of cargo typically travel in the bellyhold of passenger aircraft, yet travel restrictions as countries shut their borders and go into lockdown to curb Covid-19 have greatly cut global capacity and hiked up the cost, experts reveal.
It is estimated that belly capacity is down by 90 per cent on some transatlantic routes, say press reports.
Airfreight rates between the US and Germany have more than doubled in the last week from 1.62 euros per kilogram on March 16 to 3.39 euros per kilogram as of Monday, according to the TAC Index.
Rates between the UK and the US have also more than doubled week-over-week (up 128 per cent) from 0.88 pound per kilogram on March 16 to 2.01 pounds per kilogram as of Monday. This follows dramatic price hikes on routes between the US and China.
American Airlines and United have begun making cargo-only flights between the US and Europe to bolster depressed global airfreight capacity as a result of passenger travel restrictions related to the COVID-19 global pandemic, according to Air Cargo News.
American Airlines flew its first cargo-only flight in more than 36 years March 20 from Dallas to Frankfurt, Germany, in a Boeing 777-300 at full capacity.
United flew its first cargo-only flight from Chicago to Frankfurt March 19 and will continue to fly 40 cargo-only flights from US hubs to key international cities per week using a portion of its Boeing 777 and 787 fleet, according to a press release.
Delta, Luftansa and others have either begun flying cargo-only routes using passenger aircraft or are considering doing so, reports Air Cargo News.
Freight forwarder Agility told Air Cargo News: "Global cargo capacity reductions are a reality at this point, [and] no longer just a China and intra-Asia issue."