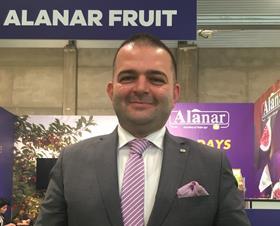 Turkish exporter Alanar is finding new opportunities for its cherries all over the world, not least in East Asia, where recent openings are paving the way for the company's continued growth in the region.
"We are receiving good demand from new markets," says marketing and sales manager Yiğit Gökyiğit. "Our marketing team is growing, so we are attending more and more exhibitions and making lots of contacts. In addition, the reputation of our company is growing. These days, sometimes we find customers and sometimes they find us. Many people have heard about Alanar since our parent company Tekfen Holding took over. We have invested in new technologies and new orchards, and people are very impressed when they see our products and want to try them."
In 2019, Alanar succeeded in making inroads into some sizeable markets, including China. The Chinese authorities' initial requirement of a 16-day cold treatment for cherries suggested that opportunities would be limited, but their later decision to accept Turkish cherries that have undergone three hours of fumigation was a huge boon to Alanar.
"As soon as the fumigation method was approved, we started exporting cherries to China," says Gökyiğit. "The new protocol was only announced at the end of the season, but we still saw huge demand from China and received excellent feedback, so this may well be one of our major markets in the near future."
Alanar also exports to Hong Kong, Singapore and Malaysia, and has also started sending to South Korea. "We are the first company in Turkey to export cherries to South Korea, and the only one that has permission to do so," he says. "We also exported our cherries to India and the Maldives for the first time in 2019."
With exports of 5,500 tonnes, Alanar stands as the leading Turkish cherry exporter. The main varieties produced are Ziraat 900 and Napoleon, as well as Regina and Kordia. "We grow cherries in various regions in Turkey in order to make the season as long as possible," says Gökyiğit. "Our high-quality cherries are always in demand no matter what other countries are in production. The key is taste."
According to Gökyiğit, Alanar's cherries are highly appreciated around the world for their taste. "In addition to the taste, the look is also important, including the stem size and the colour," he says. "Then the crunch of the fruit and the shelf-life add to the overall quality."
In anticipation of continued growth, the company's parent company, Tekfen Holding, is eyeing up further investments. "Alanar has a new packhouse project underway," says Gökyiğit. "We are currently building a state-of-the-art facility in order to start production by the beginning of 2021. We will be renewing our machinery in order to increase production by threefold and raise standards to the highest level. We will be packing cherries, as well as apricots, plums, figs, pomegranates and chestnuts, using the most environmentally friendly machines."
According to Gökyiğit, the environmental side is very important for Tekfen Holding. "We are reducing our use of plastics, installing solar panels and recycling the water we use," he says. "The company is very well known in this field, so we are always working hard and doing our best to address such issues."
Despite the promise that East Asian markets hold, the majority of Alanar's cherries are sent to Europe, mainly to Germany, the UK, France and Sweden, as well as to Russia and Canada.