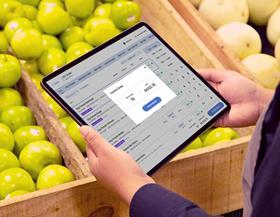 US retailers Albertsons plans to use artificial intelligence to reduce food waste in its 2,200-plus supermarket fresh produce departments by 2030.
The group confirmed it had teamed up with Afresh Technologies, a company which develops AI-powered predictive ordering and inventory systems, to improve its sourcing and merchandising operations.
As a result, it said, the chain will ultimately reduce greenhouse gas emissions and save water.
"By partnering with Afresh, we are now able to improve our processes to better manage our fresh product supply and provide our store teams with a tool to better predict demand and monitor inventory," said Susan Morris, executive vice-president and chief operations officer of Albertsons Companies.
"Managing these variables ultimately allows us to offer our customers even higher quality fresh products and further reduce our food waste."
With innovative solutions like Afresh, Albertsons wants to reduce food waste in its business by 50 per cent by 2030.
"We know that fresh food drives the global grocery industry, yet the lack of technology for fresh departments causes immense food waste and expensive losses," commented Matt Schwartz, chief executive and co-founder of Afresh.
"We're honoured to support Albertsons' investment in, and demonstrated velocity of, technology and innovation, which is making the grocery experience better and more efficient for both the retailer and its shoppers."