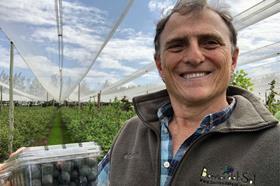 The Argentine Blueberry Committee (ABC) has held elections for its board of directors that will lead the entity during the 2021-2023 period.
Former vice-president, Alejandro Pannunzio, has been elected president. Pannunzio is an agronomist, PhD from the University of Buenos Aires, and professor of the Irrigation and Drainage Chair of the Faculty of Agronomy of the University of Buenos Aires, Argentina.
He has been an irrigation consultant and blueberry producer for more than fifteen years. He also chairs APAMA, the Association of Blueberry Producers of Mesopotamia Argentina.
The ABC represents the interests of blueberry exporters in Argentina, bringing together the regional entities of the three productive zones of the country: NOA (Tucumán, Salta), NEA (Entre Ríos, Corrientes) and Buenos Aires.
In total, there are currently about 2,515ha of which 80 per cent is exported to markets in the US, Canada, Europe and the UK, China, Hong Kong, and, as of recently, Israel.
Pannunzio said strengthening the technical area for phytosanitary treatment in order to open new markets and diversify demand was his main objective as president of ABC.
"Undoubtedly the challenge now is to improve our competitiveness, that implies addressing the tax issue that falls on the sector, as well as to improve labour relations by ensuring that social benefits are not incompatible with activity during harvest and pruning periods," said Pannunzio.
"[We also want] China to lower our tariff to zero in order to access that market from which we should be able to derive a third of Argentine production.
"To be able to strongly develop a varietal improvement programme that allows us to have our own varieties is another key target," he added.
The board of directors for ABC (2021-2023) is Alejandro Pannunzio, president, Federico Baya, vice president, Jorge Pazos, secretary, and Adolfo Storni, treasurer.