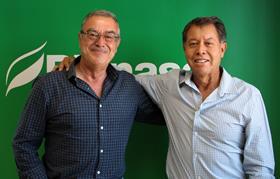 Planasa has announced that head of research and development, Miguel Angel Hidalgo, is leaving the company after 35 years.
He will be replaced by Manuel Rosas, whose previous positions include global research director at Bayer/BASF and Nunhems, vice-president of research at Driscoll's and director of vegetable breeding at Monsanto.
Hidalgo has held the position of corporate scientific director since 2003, during which he has overseen the global roll out of a number of successful varieties, including the Sabrosa-Candonga strawberry, Adelita raspberry and other blackberry and raspberry varieties.
Hidalgo will continue to work with Planasa as technical advisor, not only to guarantee the transition to his successor, Manuel Rosas, but also to continue to put his experience and knowledge of the sector at the service of the company's growth and progress, in the four R&D centres Planasa has in Spain, France, Mexico and the US.
"I feel very fortunate for enjoying the exciting work that is R&D in plant breeding and of course I am very grateful to Planasa for the professional growth that has granted to me for 35 years," Hidalgo said.
"But I am even more grateful to my team for their involvement, loyalty, professionalism and above all friendship, because without their efforts we would not have been able to achieve what this department has achieved.
"I am only leaving my position in R&D management, aware that cycles must be closed, but I will keep on collaborating with Planasa with the same enthusiasm, together with all my colleagues in the technical area.
"I welcome Manuel, wishing him major success in his new role, and deeply knowing that the great technicians and people I had the pleasure to share my life with during all these years of work, will continue to collaborate with him with the same passion and devotion they have had with me."
Planasa's CEO, Michael Brinkmann said Hidalgo's leadership and effort had "allowed the company to develop some of the most recognised varieties on the market. Without his contribution, Planasa would not have become what we are today".
Rosas said he planned to support Planasa to continue to grow professionally and help our company to differentiate itself by innovating new varieties of berries, avocado, asparagus, and other crops.
"My main objective will be to continue with the excellent working environment that we have in our company and then seek to incorporate new technologies and tools to increase efficiencies in the improvement and development of our crops," he said.