Bad weather has caused a significant shortfall of supply across many products
Supermarket aisles across Europe face shortages of fruit and vegetables in the coming weeks following a series of adverse climatic events in the southern Spain region of Almeria, whose greenhouses supply a big proportion of the fresh produce consumed during the winter months.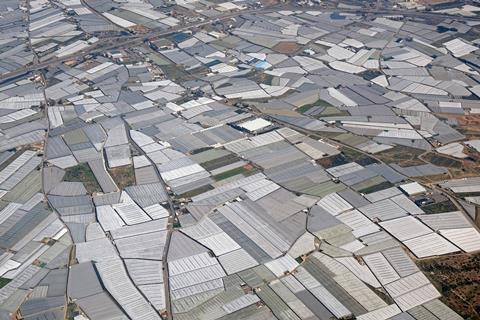 High temperatures in the autumn and early winter, followed by a persistent cold spell, have caused a shortage across most product ranges.
And the same scenario is being played out in other production areas across Europe, prompting fears of major supply issues across the continent.
This was one of the main topics of conversation between companies from Almeria and their customers during the last edition of the Fruit Logistica fair in the German capital.
According to Coexphal – the Association of Organisations of Fruit and Vegetable Producers of the province of Almería, the volume of tomatoes sold between weeks 5 and 7 was 22 per cent lower than in the same period of the previous year.
The pattern is also repeated for cucumbers (down 21 per cent) and peppers and aubergine (both down 25 per cent), while courgette sales were down 15 per cent.
Coexphal said the situation is becoming "concerning", with some companies reporting problems in meeting their customers' requirements.
The association's CEO Luis Miguel Fernández commented: "We were not expecting this situation because the high temperatures have been maintained practically until December, which has also accelerated production throughout the first part of this campaign".
And Coexphal said the high prices of recent weeks are not enough to offset the losses farmers face, particularly in light of the steep rise in production costs and increased incidence of pests and viruses caused by the weather.
"For us, the ideal thing would be to be able to maintain a normal production rate because this would help us to balance volume and price for our growers," Fernández said.
"Our companies are doing the impossible to fulfil all their commitments, but it is practically unfeasible given the circumstances."
Fernández said that while companies are doing their utmost to fulfil their programmes with retailers, the reality is that demand far exceeds supply at the moment.
He noted that although an increase in temperatures over the next few weeks could improve the situation, it is unclear how plants will respond to the unusual climatic events seen in recent months.
Coexphal said it fears that customers will turn to other origins to plug supply gaps, accelerating the entry of fruits and vegetables from non-European countries to the detriment of Spanish growers.