Second-degree cooperative picks up AEMARK's prize for excellence in marketing for its Bouquet campaign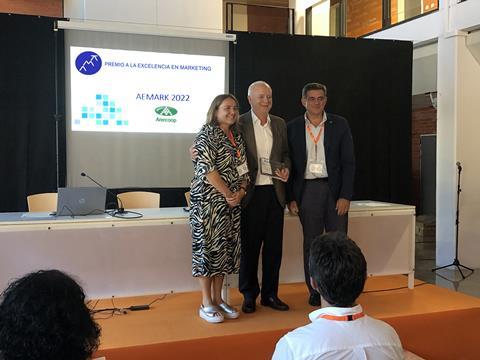 Anecoop has received the Award for Excellence in Marketing from the Spanish Association of Academic and Professional Marketing (AEMARK) for its Bouquet campaign .
AEMARK said it wanted to recognise the commitment made by Anecoop 30 years ago to develop and promote its own fresh fruit and vegetable brand, Bouquet.
A large part of the brand's success comes from its association with highly innovative products such as the seedless watermelon and Persimon kaki.
In this way, Anecoop has managed to give Bouquet international visibility as a multi-product quality brand, progressively incorporating other fruits and vegetables within the range, and offering added value to its partners when it comes to marketing a product under a brand that it is associated with values that generate confidence in the consumer, such as its social character, credibility, security, national origin and innovation.
Joan Mir, CEO of Anecoop, commented: "it is an honour for us to receive this recognition within the framework of this 33rd International Conference of the Spanish Association of Academic and Professional Marketing.
"At Anecoop, we have always opted for marketing as a key differentiating element when it comes to marketing a product and effectively communicating and transmitting its novelties and advantages to the consumer.
"Nowadays, offering a fresh, healthy and innovative product under a socially responsible brand is a challenge that goes beyond its cultivation.
"For this reason, this recognition gives us enormous satisfaction, as well as the fact that it becomes a success story, that it is studied at the university, because it is important that both producers and marketers and, ultimately, the consumer, be aware of the importance of caring for a strategic sector for our economy".