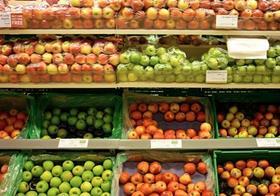 Much more could be done to promote sales of fresh apples in international markets, according to a new survey measuring the competitiveness of the world's leading apple supply countries.
According to the survey, which is published in the April edition of the World Apple Report, marketing promotions represent one of the key infrastructural areas in which the apple industry has been slow to invest.
'There has been little progress in most countries in strengthening marketing programmes,' said the report's author, Des O'Rourke of Washington-based company Belrose.
'The European Union provides matching funds for internal promotions, while the US provides matching funds for export promotions. However, these efforts are under threat from budget pressures.'
In many cases, the lack of investment in marketing can be attributed in part to the existence of more pressing priorities.
'By their nature, infrastructure and inputs tend to change relatively slowly over time,' continued Mr O'Rourke. 'It appears that scarce capital may have been diverted to adapting facilities to meet pressures from governments, retailers and activists.'
This year's International Competitiveness Rankings, which are based on a number of performance measures comparing production efficiency, supply chain infrastructure and inputs as well as financial and market factors, suggested there had been little change in the top ten apple producing countries compared with 2009.
The only major change seeing the US move from joint fourth place (with New Zealand) to overtake Italy and claim second spot overall.
Chile held on to number one spot, with Italy, France and New Zealand making up the rest of the top five.
Austria, meanwhile, slipped from sixth to eighth place overall, while Canada and the Netherlands swapped places to come in ninth and tenth place respectively.
Further down the rankings, Australia and South Africa both moved up one place to 12th and 13th respectively, but fellow Southern Hemisphere countries Brazil and Argentina slipped to 14th and 16th place.