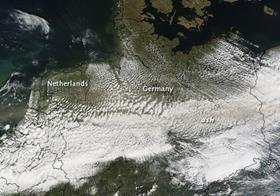 The European Food Safety Authority (EFSA) is investigating the potential risks that could emerge in the wake of the eruption of the Eyjafjallajökull volcano in Iceland last week.
An explosive eruption on 14 April threw volcanic material several kilometres into the atmosphere – resulting in an ash cloud composed of sand, glass and rock that travelled south and spread across Europe.
While the supply issues arising from the grounding of planes is slowly being resolved, the European Commission has now expressed its concerns about the possible impact of volcanic ash on crops and livestock.
In a letter sent on Tuesday 20 April, the EC requested that EFSA assisted with a risk assessment on the possible impact of a significant ash fall, while also asking the organisation to advise on the effectiveness of possible mitigation measures such as washing fresh produce prior to consumption.
Acknowledging receipt of the letter, EFSA said that it would liaise with national, EU and international organisations, including Icelandic authorities, to address the request.
'Considering the urgent nature of the request, our initial advice will focus on short-term risks from direct exposure of animal and plants to ash in the EU,' wrote executive director Catherine Geslain-Lanéelle. 'We will deliver this assistance by the 23 April at the latest.
'Subsequent advice on the long-term and indirect risks of ash for public and animal health will be delivered within one month,' she added.