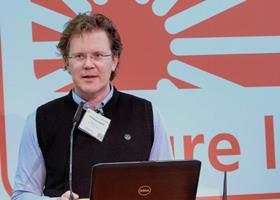 With just five varieties commanding around 80 per cent of the international apple trade, it's clear there's plenty of scope for new varieties to offer the market something new.
But where to find those new cultivars? In the past few decades, researchers have tended to favour cross-breeding as a means to develop new apple types that are more in tune with the tastes of modern consumers, but could there perhaps be some existing but forgotten varieties that would be worth revisiting?
The success seen for heirloom apples like Bramley, Reinette du Canada, Annurca and Kronprinz Rudolf would suggest so and Walter Guerra, head of pomology at the Land and Forestry Research Centre in Laimburg, South Tyrol, certainly believes other forgotten fruits might have a place in today's market.
During a special Future Lab session at Fruit Logistica 2015, he talked about a project he is overseeing to indentify potential apple stars from the days gone by.
"The varieties of new the past vary greatly according to sugar content and flavour but tend to have more pectins, polyphenols and secondary content matter," Guerra explained. "As such, I think in the future we should look to bring back more of these older varieties."