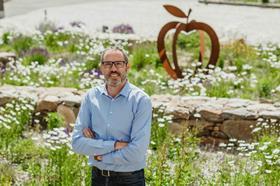 The 2020/21 South Tyrol apple season is drawing to a close and VIP, owners of the Val Venosta brand, is already looking ahead to the start of the 2021 campaign as part of its year-round supply to its customers.
The cooperatives that make up the Val Venosta Cooperatives Association said destocking is proceeding according to plan: Red Delicious will be available until the end of June and Pinova until the end of July, while Jonagold will be available until August and finally, Golden Delicious until the end of September.
"Generally speaking, the last season was balanced and characterised by a regular market development over the months," said Fabio Zanesco, VIP's sales and marketing manager.
"The final balance is positive: We can be satisfied that we could achieve good prices for our members, but we unfortunately registered weather-related harvest losses in some areas."
According to Gerhard Eberhöfer, sales manager at VIP Bio Val Venosta, the organic apple campaign has gone well in spite of the challenging market situation.
"The organic market has recently become more complicated due to new players on the market but also almost constant demand," he said.
"During the last months the volumes destined for the Italian market –our main market – slightly decreased in flavour of exports to Scandinavia, Germany and the UK."
Eberhöfer added that the company's extensive supply calendar "makes us a strong partner despite increased competition which does not frighten us, but rather encourages us to offer an excellent quality and service".
VIP said the outlook for the coming season is positive, the cold winter leading to trees flowering around 10 days later, which will result in a later start to the harvest without impacting on quality or volume. A 10-15 per cent increase in volume is expected in both organic and conventional apples.
When all of Italy was affected by frost at the beginning of April leading to harvest losses in many important cultivation areas, the flowering period hadn't even started in Val Venosta's apple orchards.
"It is too premature at this stage to make point estimates. There are still many uncertainties related to climate and weather but in case of currently assumed standard fruit sizes, there are good chances to return to normal volumes and to approach a complete commercial season," Zanesco said.
"As far as organic production is concerned, we expect an almost certain production increase thanks to new orchards," Eberhöfer added.
"The same, however, is also true for our competitors in France, Germany and Poland, where organic apples from different organic orchards will be available for the first time this year, even though there is currently no knowledge about the developments there."