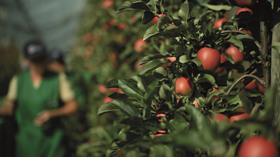 German agricultural conglomerate BayWa saw its pre-tax earnings shoot up by more than 60 per cent in the first half of 2019 thanks to the success of its energy segments and the growth of Germany's agricultural trade.
The company's EBIT for the six months to 30 June reached €52.2 million, up from €32.1m in the same period last year. Revenues rose slightly from €8.3 billion to €8.4bn.
Baywa said the growth in EBIT was "largely due to positive developments in the operative business units, especially in the energy segment".
Not only did BayWa increase its sales of heating oil thanks to lower prices, but it also traded strongly inphotovoltaic (PV) components and constructed numerous wind and solar power plants.
"In the first half of the current financial year, BayWa has increased its operating business by about €12m," said the group's chief executive Klaus Josef Lutz. "I am delighted that this was not only due to the Renewable Energies and Conventional Energy business units, but also to German agricultural trade, which year on year experienced a significant leap in results."
The business said it believes the German agricultural sector will continue its stable performance, despite the fact that growing conditions haven't been ideal again this year.
A lower harvest is expected in Germany and Europe, with market prices set to rise accordingly and suppliers relying more heavily on the southern hemisphere.
BayWa's own global produce division posted an almost identical sales performance to what it achieved in the first half of 2018 – this despite unfavourable weather in New Zealand, quality issues and falling apple prices in Germany after 2018's record harvest.
Its solid performance can be explained by the fact that its New Zealand-based company T&G Global was able to sell the largest part of its apple exports to Asia, especially China, where there was higher demand after frosts depleted the Chinese harvest.
In this way, T&G Global was more than able to compensate for the weak demand in the EU, and the tropical fruits trade was also strong thanks to the establishment of new sales channels in Germany.