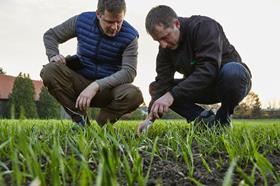 After two successful rounds, German agri-group BayWa has extended its participation in the international Copernicus Masters innovation competition for a further three years.
Start-ups, research groups and students, as well as private individuals, can now enter their ideas and technologies for sustainable satellite-based agriculture in the BayWa category Smart Farming Challenge at this year's event.
According to the company, the focus is on applications that combine data from space with artificial intelligence and machine learning, along with satellite-based solutions specifically intended for pasture management and the early recognition of plant diseases in arable crops, as well as yield forecasting in gardening.
"Smart farming is part of a modern, sustainable, resource-friendly approach to agriculture," said Klaus Josef Lutz, chief executive officer of BayWa. "It allows us to bring together conventional and organic agriculture, and fulfil consumers' desire for more climate-friendly farming while also helping meet rising global demand for affordable, high-quality food."
BayWa already offers its agricultural customers a range of data-based options to help them manage their land in line with their requirements, using optimised processes and in a climate-friendly manner. The Smart Farming Challenge is a way to constantly expand the range of applications, said Lutz. "Over the long term, that turns farmers into data farmers."
The Covid-19 crisis and the resulting social distancing guidelines clearly demonstrate the relevance of satellite data for agriculture.
"Because of the limits to on-site advice on plant cultivation together with the farmer, our crop advisers are increasingly relying on satellite data," explained Jörg Migende, head of digital farming.
The company primarily uses data from Sentinel satellites, which transmit current data to earth every three to five days as part of the EU's Copernicus space programme, with the data analysed by the BayWa Group company Vista GmbH, Munich.
"That gives us the opportunity to offer our farmers the best possible support, even under difficult conditions, and thereby secure the supply of basic foodstuffs while also enabling environmentally friendly business practices," outlined Migende.

BayWa and its subsidiaries Vista and FarmFacts will act as mentors, helping the winner of the Smart Farming Challenge develop their innovation into a usable application for farmers.
Access to the company's knowledge, markets and customers, along with a prize of €5,000, round out the rewards.