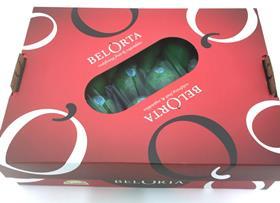 This week saw the return of BelOrta's Conference pears to China, the Belgian cooperative's third consecutive year exporting Conference to the mainland.
The first container arrived at the port of Shanghai, with tastings organised at retail stores in collaboration with local partner Goodfarmer to promote the variety.
"BelOrta first collaborated with Goodfarmer in 2018 to introduce the BelOrta Conference pear in Chin," the cooperative stated. "By combining Goodfarmer's market knowledge with BelOrta's product expertise, BelOrta aims to make its Conference pear a must-have in Chinese supermarkets. Since the partnership started in 2018, the exported volume of Conference pears has been increasing year by year."
According to BelOrta, the Conference pear differs from local Chinese pears in both colour and shape, but is popular with Chinese consumers for its taste and texture.
"As opposed to Asian pears, the Conference pear has its unique distinctive elegant shape," said Laurent De Smedt, head of BelOrta's topfruit division. "Moreover, it can be eaten both hard and crispy or soft and sweet. And since Conference pears will be available in China from October to February, they are the perfect addition to the Chinese pear season."