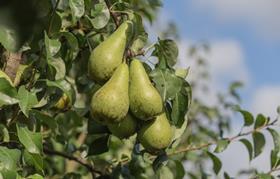 Last week, Belgian cooperative BelOrta kicked off the new topfruit season with its first clock sale of Conference pears.
This year, BelOrta anticipates a lower apple harvest, with acreage expected to fall by 4 per cent. The cooperative forecasts a pear harvest comparable with last season, despite acreage falling by an estimated 10 per cent.
As usual, BelOrta is backing up the campaign with an extensive media plan, putting BelOrta topfruit in the spotlight on both Flemish and Walloon TV this autumn.
The group has announced the launch of a new partnership with popular baking programme Junior Bake Off, which will challenge junior chefs-in-the-making to create fun dishes using BelOrta apples.
Other initiatives include a radio spot on Flemish and Walloon radio, various online efforts, PR campaigns and product samples in the country's Plopsa theme parks.
BelOrta offers a varied apple range, including Jonagold, Jonagored, Golden Delicious, Boskoop and Elstar, plus rising club varieties Kanzi and Greenstar.
As for pears, in addition to the Conference, the cooperative offers Doyenné du Comice and Durondeau, as well as club varieties Migo and Fred.