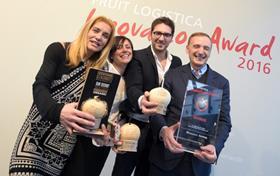 Visitors to this year's Fruit Logistica in Berlin have voted the Genuine Coconut from Spanish company World's Coconut Trading as the winner of the 2016 Fruit Logistica Innovation Award (FLIA).
The product fended off strong competition from runner-up Northern Greens' Kitchen Minis tomato, and Terra Natura's striped pepper Enjoya, which came third.
Genuine Coconut comes in a can with a patented seal and straw, and is a simple, refreshing coconut water drink with minerals and a high nutritional value.
The Thai Nam Hom coconuts used are organically cultivated in the heart of Thailand and are regarded as first choice due to their quality, taste and smell.
"We are happy and proud. Thank you Fruit Logistica! This is a great reward for three years of hard work, passion and excitement involved in bringing Genuine Coconut to market," said Carlos Amoros of World's Coconut Trading.
For the first time the jury also presented a special award, which went to Stoffels from Belgium for its Automato tomato vending machine.