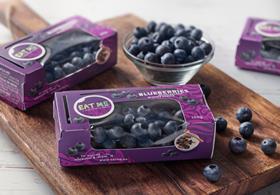 Berries Pride, the soft fruit segment of Netherlands-based Nature's Pride, has launched a new, sustainable packaging concept for its Eat Me blueberries.
According to the group, the cardboard punnet is more sustainable and offers different consumer benefits.
'Sustainability is in the business DNA of Berries Pride and for a while the company has been looking for a sustainable alternative to the plastic punnet,' the company stated. 'Together with Bama Packaging, they found the solution in this new cardboard packaging.'
By using cardboard as its primary material instead of plastic, Berries Pride has reduced the production and waste of new plastic.
The square shape of the packaging also has an advantage, the group noted, allowing Berries Pride to transport over 65 per cent more weight on a standard euro pallet.
With this it reduces the CO2 emissions related to transport, scaling down its climate footprint.

In addition to these sustainability advantages, the punnet is also designed for the needs of the consumer, the company confirmed.
A big window allows a clear product view, while the berries can be washed directly in the punnet because it has 2 openings in the bottom.
The punnet is recloseable, and features a shaker opening in the side of the punnet. This allows consumers to easily shake the necessary berries out of the container and close it again.
"We believe that this cardboard punnet is the perfect next step towards a 100 per cent sustainable packaging,' explained Priscilla Wolf, senior marketer at Berries Pride. 'The punnet is patented and we are currently testing and fine-tuning the packaging of strawberries, raspberries and blackberries.
'The tests will be finalised in March,' Wolf added. 'We expect to introduce cardboard-packed blackberries and raspberries in May. The strawberry packaging will be marketed at the end of this year."