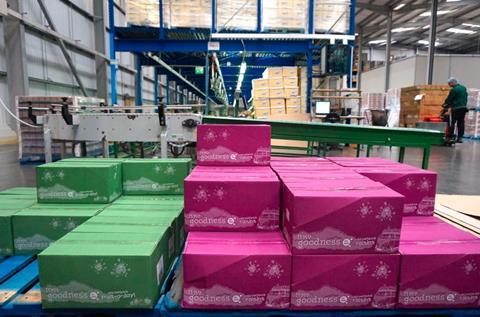 Italian company Besana Group, a major supplier of fresh nuts and dried fruit with subsidiaries in a number of different countries, has announced plans to expand its business across Europe and central Asia by investing heavily in its UK operation as well as developing production centres in eastern Europe and beyond.
During the last few months, it revealed, the group has undertaken a significant expansion of its production capacity at its Besana UK facility in Ipswich, where where it currently packs around 4,000 tonnes of product – equivalent to 16m individual packs – for the British market each year.
"With the expansion we expect to double our production capacity to 8,000 tonnes in the next six months, targeting both the UK and European markets," a spokesperson for the company confirmed.
The expansion was necessary, the spokesperson added, in order to offer its customers even more in terms of packaging options, while keeping up with ever-increasing demand from customers for food safety.
The UK expansion plan also includes an investment of more than £4m in a second pasteurisation plant, which will apparently incorporate the same Napasol technology used for many years in the group's Italian facility.
Besana UK currently has seven packing lines at its Ipswich packhouse, plus storage area for 2,500 pallets of both raw material and finished products. This can also be extended in future, the group suggested.
Expanding eastwards
Besana also revealed that it has begun a significant expansion of its nut production in eastern Europe and central Asia, something which will enable it to source more walnuts, hazelnuts, almonds and pistachios, as well as more limited volumes of pecan nuts, in future.
The group recently established an experimental production unit covering 25ha in Kazakhstan, where the company is now harvesting 19 different high-quality and cold-resistant varieties of nut in collaboration with leading local nurseries.
Besana Croatia, meanwhile, is similarly developing production of the hazelnut varieties Tonda Gentile Trilobata, Tonda Giffoni and Tonda Romana, in Croatia itself as well as Romania and Ukraine.