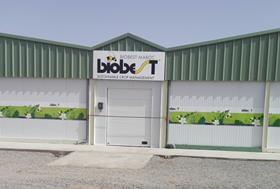 Biobest has announced the opening of a new €1.2m state-of-the-art production facility at its Moroccan subsidiary.
According to the group, the 2,000m2 vertical farming facility is fully equipped with climate controlled rooms, as Biobest looks to 'substantially expand and improves its global capacity to produce aphid biocontrol agents'.
Aphids remain one of the more challenging pests to control with biological methods. Biobest aims to offer growers around the world a full range of natural enemies as well as the technical advice to succeed.
Thanks to new biocontrol solutions, the market's big appetite for residue free produce and increasing pesticide resistance problems, aphid biocontrol is booming. The gall-midge Aphidoletes aphidimyza, a voracious aphid predator, plays a crucial role in a successful aphid biocontrol strategy, and with the new facility Biobest said it is ready to meet demand and to ensure flexible and reliable supply to its customers.
"When aphids start to develop, the grower needs to act really fast to keep the pest under control," explained Karel Bolckmans, Biobest's COO. "Being a reliable partner for our growers is a central point of Biobest's aspiration. Growers should be able to count on us for product when they need it.
'With this investment, doubling our production capacity for Aphidoletes, we believe we make an important contribution to keep the momentum going for aphid biocontrol in global horticulture,' he noted. 'With multiple production sites across the globe, our aim is to be able to offer that flexible response capacity to growers in different parts of the world. Our Moroccan team has done an outstanding job with on-time and on-spec completion of this new production plant."
Karim Jerate, general manager of Biobest Maroc, expressed pride in the new facility and said the Moroccan arm was pleased that Biobest had put its trust in its team to realise this high-tech investment.
"Successful aphid biocontrol is not a matter of one magic bullet product,' said Marc Merterns, sales director at Biobest. 'We recommend strategies with different beneficials combined in an effective way.
"The gall-midge Aphidoletes has an important role to play, in view of its high predatory capacity and hence ability to effectively clean-up emerging aphid outbreaks,' he added. 'That makes for a powerful tandem with different species of parasitoid wasps. We continue to work on expanding our range of solutions. Our advisors know how to help growers to best combine the most effective IPM solutions in different crops and different climates."