IFG and SNFL tie-up outlines bold commitment to transform the world of table grapes and cherries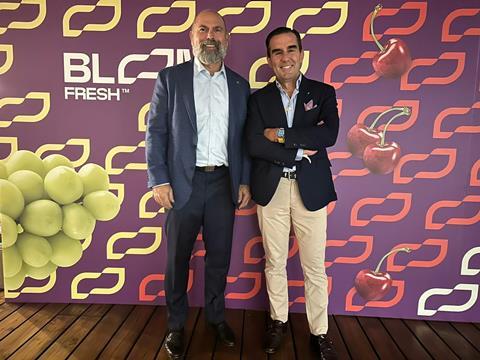 Bloom Fresh unveiled its new corporate identity at Fruit Attraction Madrid 2023, reaffirming its commitment to breeding tasty, healthy and sustainable table grape and cherry varieties across 24 countries.
This new corporate identity follows the merger of Special New Fruit Licensing (SNFL) Group and International Fruit Genetics (IFG).
The event commenced with a launch hosted by Bloom Fresh, which brought together its extensive global grower network. During this event, the company executives made a pledge to lead the industry with expert innovation, setting the stage for the creation and release of flavourful, high-antioxidant, and nature-positive varieties.
Alvaro Muñoz, chief executive of AMFresh Group delivered a keynote presentation entitled "The Global Vision of Table Grapes" at the Grape Attraction Congress. Muñoz shared insights into the strategic fusion of the SNFL and IFG gene pools and teams, which marked a significant milestone in the journey toward delivering the next generation of healthy, natural foods.
"Bloom Fresh is not just redefining the way we think about table grapes and cherries; we are setting the standard for what's possible in the industry," said Muñoz. "Our collaboration with AMFresh Group is a testament to our shared vision for creating exceptional, nutritious, and sustainable fruit varieties."
Kenneth Avery, chief executive of Bloom Fresh, extended a warm welcome to his global team and the worldwide grower base. He reaffirmed Bloom Fresh's commitment to growers, retailers, and consumers with the future of fresh produce.
"Bloom's unwavering dedication to our growers is ingrained in our core values. We consistently uphold the highest standards, striving for excellence to benefit our growers and empower them to achieve their maximum potential," said Avery.
"Bloom will continue to empower growers and inspire consumers worldwide by providing innovative solutions and creating incredible flavours of fruits and delightful eating experiences."