Vegetable spread introduces a new, modern and fun way of eating broccoli while also contributing to reducing food waste
Brocomole, a vegetable spread designed for dipping made with 97 per cent fresh broccoli and avocado, is the only Spanish product selected and nominated for this year's Fruit Logistica Innovation Awards (FLIA.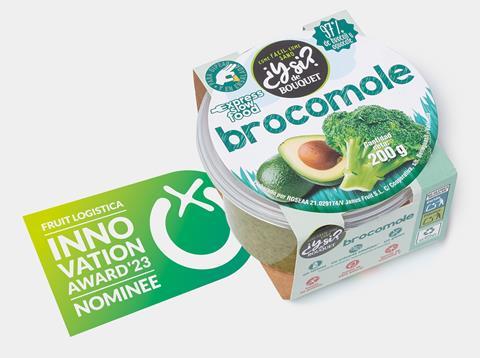 Brocomole is produced by Janus Fruit and marketed by Anecoop in Europe through its network of subsidiaries under the ¿Y si? de Bouquet brand in Spain, and Easy by Bouquet for the international market, as well as other distributor brands.
The line also includes avocado hummus, traditional and spicy guacamole, organic guacamole, chickpea hummus and Mexican sauce.
Anecoop said the spread, which contains 54 per cent broccoli and 43 per cent avocado, achieved excellent results in terms of appearance, colour, aroma, flavour and consistency parameters during consumer tastings coordinated by the AINIA technological institute. Almost three-quarters (72 per cent) of the panellists stated that they would repeat the purchase, while 78 per cent said they would eat more broccoli thanks to this new format.
"This is a new way of consuming broccoli which, for Anecoop, also means making the most of its members' product that maintains all its organoleptic qualities, but which, due to its appearance or size, cannot be marketed fresh," Anecoop said.
Brocomole has 31 per cent fewer calories, 34 per cent less fat, and 30 per cent less sugar than traditional guacamole, as well as containing 37 per cent more protein. It is also gluten- and lactose-free and a good source of fibre, vitamin C and potassium.
Anecoop presidient Alejandro Monzón commented: "we are very excited to have been selected by a specialised jury as one of the 10 innovations candidates for the award, and the only Spanish contender.
"The results of the consumer panel encourage us to think that the product will have a good acceptance in the market, since, both for its organoleptic properties and for its name, it has been highly valued with a score of 7/10.
"A new and healthy alternative for consumption and one more opportunity for the commercial outlet of the product of our farming partners".