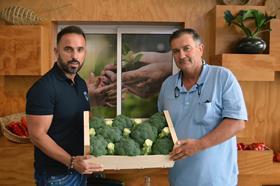 Spain's Campojoyma has added broccoli to its rapidly expanding organics line, BioCampojoyma, after signing an agreement with Murcian supplier Medifruver.
Under the deal, Campojoyma will sell Medifruver's organic broccoli production and the Murcian cooperative will join BioCampojoyma's technical system and sustainable production philosophy.
Campojoyma expects to export four million pieces of broccoli in the first season, running from October 2020 to May 2021.
The main markets will be Germany, France, Poland, Romania, the Czech Republic, Sweden, Denmark, Austria, and Switzerland.
Hosting a visit by Medifruver president, Félix Garre, this week to sign the agreement, Campojoyma's founder and manager Francisco Montoya described Medifruver's location in Murcia as "one of the best in the country for growing broccoli".
Broccoli will reinforce Campojoyma's leafy product catalogue, which also includes Chinese cabbage, pointed cabbage, cauliflower and cabbage. The Almerian company is the world's biggest producer of organic Chinese cabbage.
Campojoyma was founded by Montoya in 2004 and currently supplies more than 30 organic fruits and vegetables throughout the year.