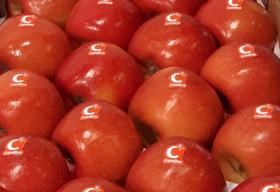 Production of the Candine apple, bred by France's Agro Séléctions Fruits, is planned to reach 500ha in France and Italy by 2024, according to Regal'in Europe.
Negotiations are also underway for this approach to be extended to other producer countries.
Development of the Candine variety, a cross between Fuji and Ariane, is carried out through a structured organisation, with sales managed by France's Blue Whale and Italy's Apofruit in their respective countries, and commercial development done under the Candine brand with a specific marketing and communication effort.
Promotions this year began on the occasion of the first year of commercial production, with an open day held in Apofruit's orchards in Cesena to present the variety to interested Italian producers.
Blue Whale has also granted access to its orchards for operators selected by Agro Séléctions Fruits as potential candidates for the development of the apple in other producing countries.
The apple is bright red with a sweet aromatic flavour and is ready to harvest at the end of September.
The variety benefits from a long shelf-life and the ability to maintain its organoleptic qualities in cold storage for ten months. It is also scab-resistant, non-sensitive to physiological diseases and suited to organic production.
Production of the apple is also regular and non-alternating, helping to ensure returns for growers, and is suitable for all production areas.
"Candine is the new apple that guarantees profitability and a new taste experience for consumers," Regal'in stated.