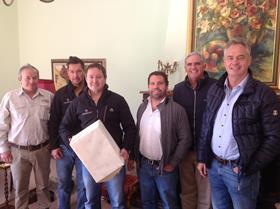 South African table grape grower Jacques Beukes has been named Western Cape Farmer of the Year, just months on from helping to achieve a major breakthrough in the Asian market.
In January of this year, Beukes was among the first table grape producers to export their product to Thailand after the Asian country granted South Africa access following an eight-year hiatus.
His production site at Modderdrift Farm turned out more than 400,000 cartons of grapes for export this season, all of it marketed through Capespan to customers in the UK, mainland Europe, Asia, Africa, North America and the Middle East.
Members of the Capespan team – including Capespan Group managing director Tonie Fuchs, fruit division chief executive Leon Van Biljon and Capespan SA managing director Stuart Symington – visited Modderdrift to congratulate Jacques personally and hand over a gift on behalf of the marketer.
South Africa accounted for just under 9 per cent of the global grape export trade in 2014, according to Comtrade.
With total sales of US$877m that year, the main destinations were the Netherlands (37 per cent), UK (20 per cent), Germany (8.8 per cent), Hong Kong (3 per cent), Russia (2.4 per cent), UAE (2.4 per cent), France (2.3 per cent), Canada (1.9 per cent), Poland (1.7 per cent), Malaysia (1.6 per cent) and Norway (1.5 per cent).